Roku Review – What You Need To Know
The Roku streaming media player  which now comes in six different versions, is an easy and convenient way to stream content from the Internet to your TV. The company announced its latest fifth generation products in October 2016, each of them geared to a slightly different type of streaming media user. When you combine the Roku streaming media player with a Roku HDTV or Roku 4K TV, you get a powerful way to watch all of your entertainment options.
In terms of similar products, the Roku is most similar to other set-top boxes, such as Apple TV. Once you connect your Roku to the same Internet connection as your TV, you can unlock over 3,500 free and paid channels as well as 350,000 movies or TV episodes. Some Roku users have compared it to being in a "multimedia candy store," and for good reason – you're literally getting access to just about every type of streaming content that exists.
However, it should be pointed out here that, just because you can access Netflix content doesn't mean that it's all free. If you want to stream Netflix content, for example, then you have to have a Netflix account. And the same is true for any of the other streaming services, such as Hulu or HBO Go. Think of Roku as the gateway to this content, not as the provider of this content.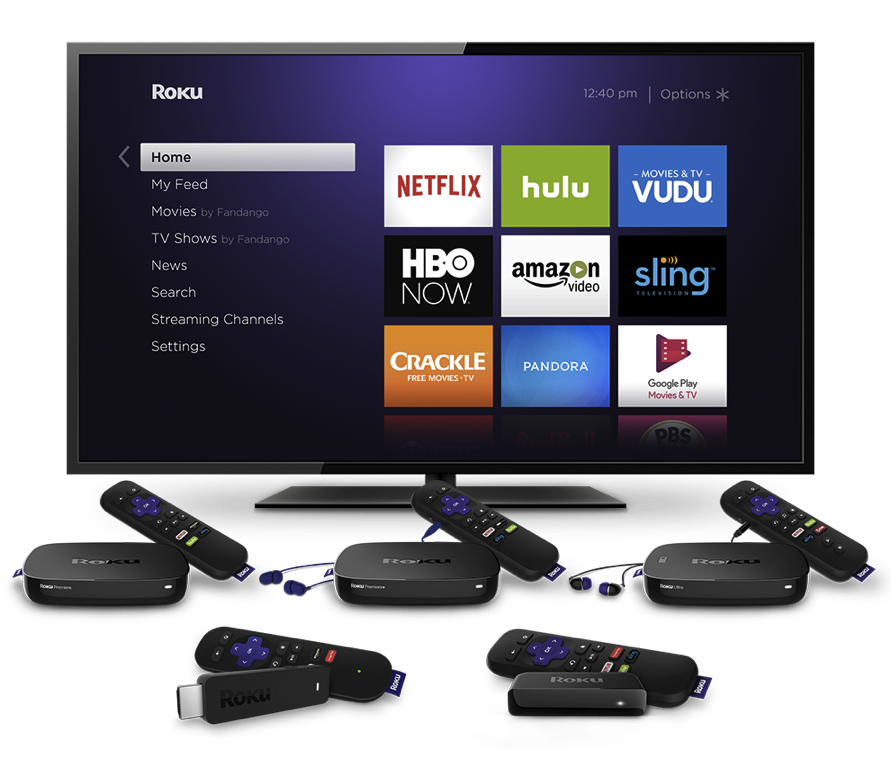 The Six Different Roku Players
So, if you think you might be interested in getting a Roku player, you then need to figure out which one is right for you. There are six different options, ranging in price from $29.99 for the Roku Express to $119 for the Roku Ultra. And, if you'd prefer to use a USB stick, you can get the Roku Streaming Stick. As Roku likes to say, there's a Roku product for everyone and every budget.
Roku Express ($29.99) – This is the entry-level version of the streaming media player, and gives you full access to the same amount of streaming content as the more advanced versions. In addition, you can stream content in 720p or 1080p (but not 4K). You won't get all the extra features that are found in other versions, but this is a popular option for people new to streaming content.
Roku Express+ ($39.99) – The primary difference between this version and the regular Roku Express is the ability to use it with non-HDTVs. This might not sound like a big deal, but it's a capability that's lacking in the Apple TV, Fire TV, or Chromecast. So, even if you have an older type of TV, you can still use Roku!
Roku Premiere ($79.99) – At this price point, you get the advantage of streaming content in full, glorious 4K. However, of course, you need to have a TV screen or mobile device that's also capable of playing 4K content, which is why some people prefer to add in a Roku 4K TV.  And there are a few other goodies here – like screen mirroring capabilities (if you want to send content from a mobile device or laptop to the TV) and Night Listening Mode (which helps to regulate between the very loud and the very soft sounds that might be in a movie, so you don't have to keep turning up/turning down the volume).
Roku Premiere+ ($89.99) – This is almost completely the same as the Roku Premiere, only it comes with headphone jacks and the ability to listen to streaming TV or music content with headphones.
Roku Ultra ($119) – At this price point, you really have to be an entertainment fan to appreciate all the perks. In addition to all the features included in the other models, you also get voice search, special gaming buttons on the remote and a USB port for adding your own personal media files.
Roku Streaming Stick ($48.49) – If you'd rather use a USB stick that plugs into the side of your TV, this is a great option. It's similar to the Roku Premiere, but lacks the ability to play content in 4K.
Roku TV
Where you can really create a world-class entertainment experience is by combining a Roku smart TV with a Roku streaming device. Unlike TVs that you might buy for cable or satellite TV, these TVs are intended to be streaming-friendly. That means you can use the same remote for the Roku and the Roku TV. In terms of pricing, these TV sets are meant to be more affordable than those you'd buy from a company like Samsung or LG. Thus, you can get a 55-inch 4K Ultra Roku Smart TV on Amazon for less than $500. But be forewarned – you don't need a Roku TV to enjoy a Roku. Any HD television works, so if you already have an HDTV, then you probably won't buy a Roku TV.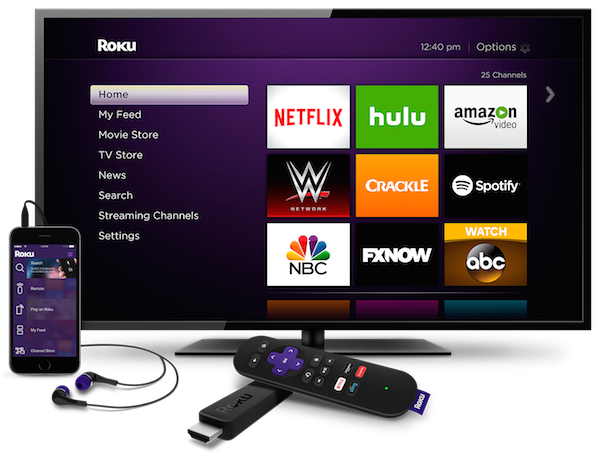 So many great features
One great feature of the Roku is the ability to search across multiple content platforms for the same movie or show. This helps you find options that are cheapest for you. For example, you might see that a certain movie is free if you have Hulu  Or you can compare the cost of renting or buying the movie from several different streaming content providers. That's a great option, especially when you compare it to an Apple TV, where you have a single price – the cost of the item in the iTunes Store. Once you have a Roku account set up, it's very easy to rent, buy or subscribe across different platforms.
Roku also plays nice with mobile devices. Users can "cast" their content from mobile devices to the TV as long as they have the Roku app installed.
Once you've paid for your Roku streaming player, there are no monthly equipment fees and no rental fees. You only pay for the content that you consume and you don't have to worry about hidden fees or any kinds of data limits.
In many ways, Roku empowers users to find the very best content. To make that possible, the remote has shortcut buttons for popular services like Netflix. And more advanced versions – like the Roku Ultra – now have voice search.
Conclusion
For anyone thinking of cutting the cord from cable, Roku makes it very easy to access the very best streaming media content. The selection of content – 350,000 movies and TV shows and 3,5000 channels – can seem overwhelming at first, but once you get used to the idea of a la carte consumption, it becomes very intuitive. At a time when the latest generation Apple TV can cost $149, you can get a very similar type of streaming player for less than half the cost. This is definitely an option to consider if you're looking for a great way to stream content like movies and TV shows.